ASPECT partners participated at the 6th edition of the European Climate Change Adaptation (ECCA) conference, taking place in Dublin, Ireland. Together with the European project Climateurope2 (Supporting and standardising climate services in Europe and beyond) and drawing on the TRUST project (Tools for raising and understanding trust in systems science through citizen engagement), a session titled "Communities of Practice: Engagement Strategies" was held on the 21st of June 2023.
The 45-minute session was co-chaired by Marta Terrado, one of the ASPECT project coordinators and researcher from the Barcelona Supercomputing Center, who provided an overview of the strategies employed to engage with different stakeholder groups in order to promote the uptake of solutions enhancing resilience to climate change. She also had a pivotal role in the organisation of the ECCA conference, as co-lead of the thematic topic on "Preparing for more frequent and severe climate extremes".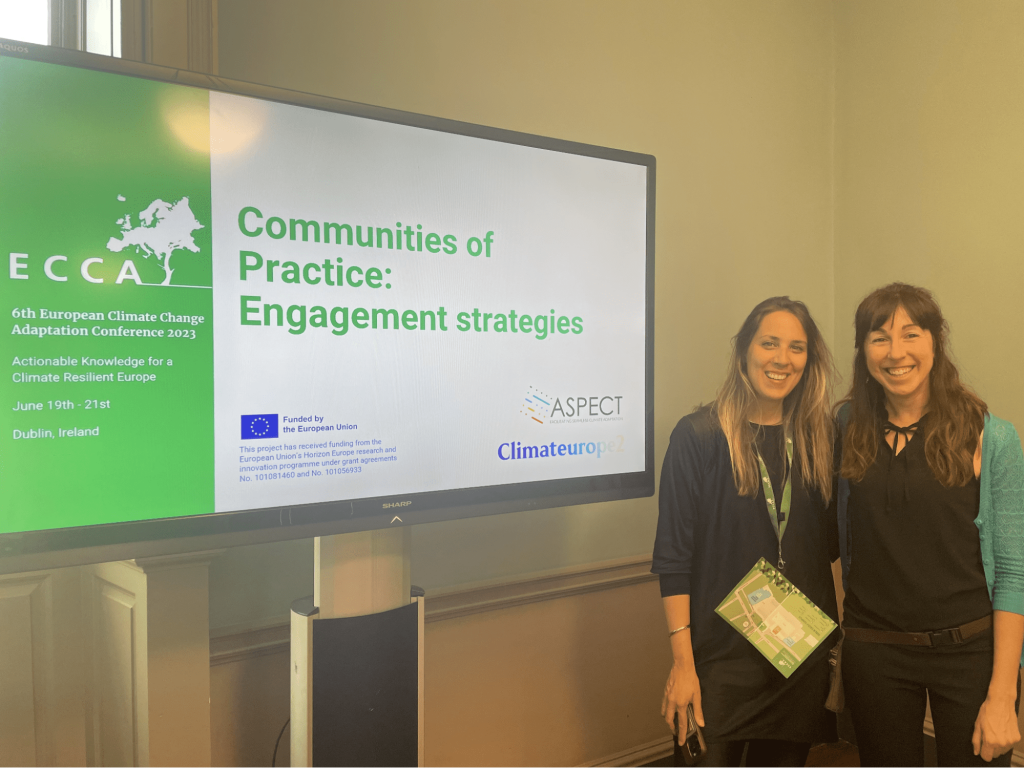 During the session attended by over 60 participants, a community of practice was defined as a "group of people who share an interest for something that they practise, and who learn how to do it better through regular interaction" (Wenger, 1998). Building such a community in ASPECT involves a three-pronged approach, entailing:
the organisation of annual multi-sector user forums
the recruitment of superusers from societally important sectors, e.g. agriculture, energy, finance
effective communication to reach relevant stakeholders and the wider society
The ASPECT researchers expanded on the user forums, which provide a collaborative space for stakeholders from various sectors to share knowledge, experiences, challenges and requirements related to climate prediction services. These forums aim to bring together multi-disciplinary researchers, providers, users and other beneficiaries of climate predictions interested in learning how to use them more effectively and efficiently.
Strategies to retain engagement were also discussed, such as regularly assessing and adapting the approaches used based on feedback to ensure that user needs are met and users are kept engaged in the long run.
Sam Grainger, a researcher from the University of Leeds, highlighted that ASPECT will engage with several "super users" throughout the project, which are organisations with different information requirements that will work closely with the project researchers to inform science outputs and co-develop use cases and prototypes.
Finally, the competition to become a "super user" was launched at the event, inviting organisations from societally important sectors to submit their application for a chance to take part in the project.